Everybody says it: your wedding day comes and goes in a blur of words, music, food and tears (the happy kind, of course)! It seems that the little moments you want to somehow wrap in memory-padding and keep forever are the first to slip away. And while you may be happy to forget about Aunty Judy's phone ringing during the ceremony, there will be a gluttony of others you desperately want to stand the test of time. 
It might be the smell of confetti in your hair, or the sight of your bridesmaids wearing flowers crowns uniquely curated to your set-up. It might even be the perfect joy you felt leaving hand in hand with your soulmate with your new name draped in denim across your shoulders - marking the next stage in your lives together. 
Here, we give our top three picks of the little momentos that will keep you and your loved ones reliving your dream day forever.
Your Monogrammed Jacket from The Parker 
We all know you're the bride, but screw it, you want to shout it from the rafters anyway! The Parker's loud and proud up-cycled denim truckers are how contemporary brides are keeping warm at the end of the night, after the cool air has settled in and the booze blanket has begun to ware thin. It's just like the one he threw around your shoulders on your very first date together, only this time embellished with sequins - the perfect homage to the old adage 'what's yours is mine'. 
No doubt you've bagged yourself one of these glam-meets-girl-next-door jackets to officially mark your transition from single to off-the-market, and we recommend holding onto it. Even if you don't get to wear it all that often, it's cost-per-wear ratio is much more economical than your dress, and chances are you won't keep both. At a time when it makes much more sense for a bride to sell the dress she's only going to wear once, a jacket is something that you can reach for and wear again and again. 
The Parker jackets are vibrant and proud - just how you felt leaving in the arms of the one you love. You're officially a Mrs. and you're stoked about it - this memento is a reminder of just how vivid your love is for each other.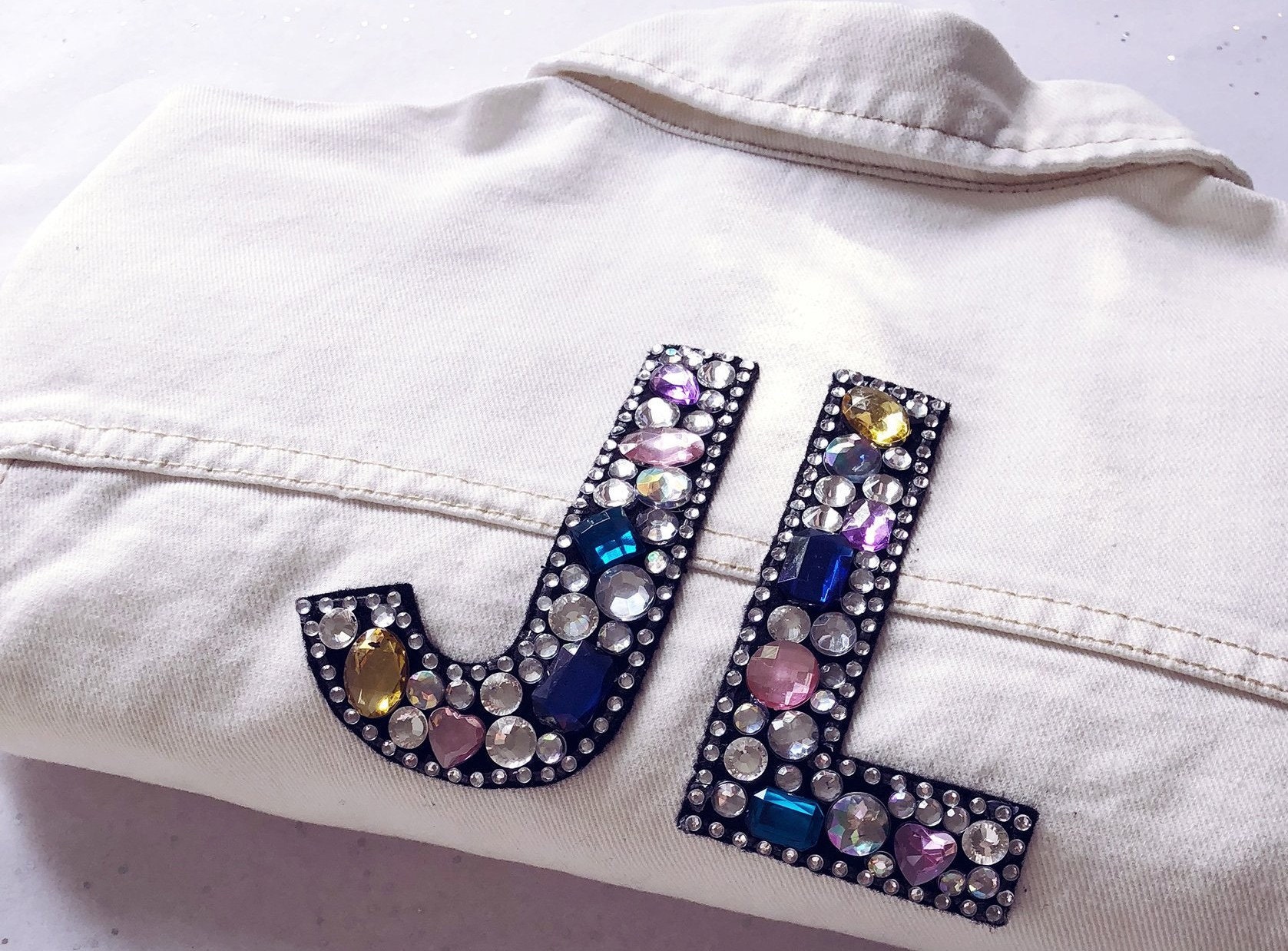 Your Flower Girl's Confetti Bucket
How special are those little humans who bravely forge the path for us down the alter, taking the burden of everybody's eyes in their stride and courageously tossing their petals into the air? Your flower girl is the embodiment of innocence, transporting each of us back to a time of newness and beginning. 
The basket that your flower girl carries down the alter is a talisman of this innocence, and harks back to a time of honest, functional beauty. Not only will the basket transport you back to that moment, but it can be repurposed again and again in as many ways as you can imagine.
Everland buckets for your flower girl are not only made of lightweight paulownia wood, they are hand engraved in your choice of our signature designs. This bucket is a blank canvas; being as simple as you'd like (so the focus is on your gorgeous little human), or ready to be embellished with ribbons, flowers, colourful silk or even our Everland confetti cones!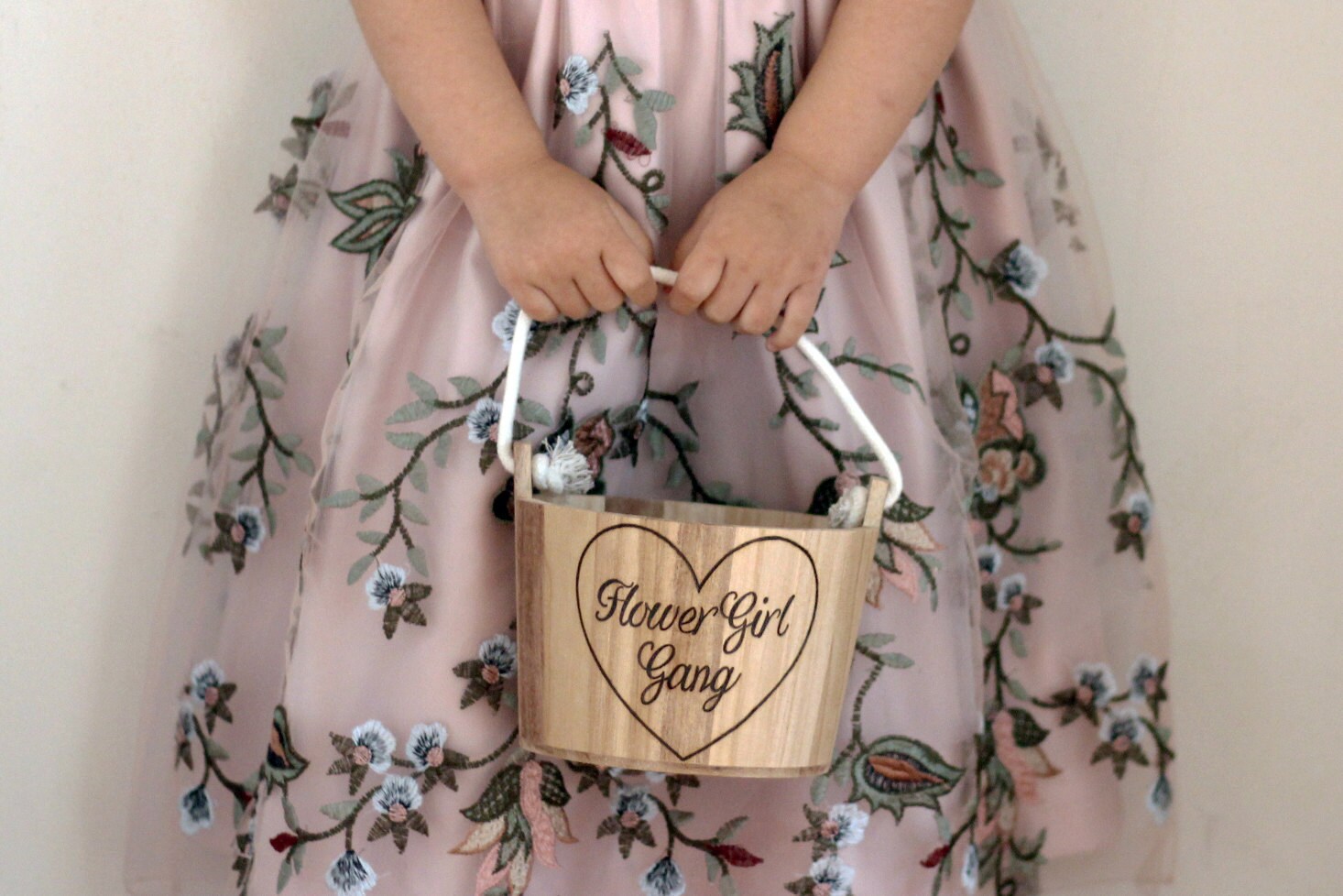 Your Personalised Wine Box from Etch It Studio
Who says weddings are just about love? We say they're also about wine! When else do you get the chance to fill a room full of all your favourite people, fill them with booze and spend the night toasting to all the good times you've had together? 
Whether you've chosen a venue that includes a drinks package, or you've combed your local liquor store for your favourite drops to BYO, you will have sampled a plethora of wines and chosen your favourites to serve on the night. 
There's a high chance you've set a bottle aside to crack into on a chosen date well into the future. Perhaps on your one year anniversary, or even your tenth. 
Why keep this bottle in the back of the cupboard? Etch It Studios create beautiful, laser-engraved wine boxes in an eclectic assortment of finishes; with hinged, perspex and wooden closures, and a myriad of fonts, all customisable to suit you and your partners personalities. 
The beauty of these unique boxes is that they can be kept forever, long after the bottle inside has been drained (and your headache has faded away!). You can have them engraved with your name and the date of your ceremony, then place it in a prized position in your wine cellar or even on display in your kitchen. Not only will you appreciate the happy reminder, your guests will too, especially if they were there with you the night you tied the knot. For some extra fun, why not make an event of it by nailing it shut at your recovery session the day after the wedding. That way it might last until at least your first anniversary!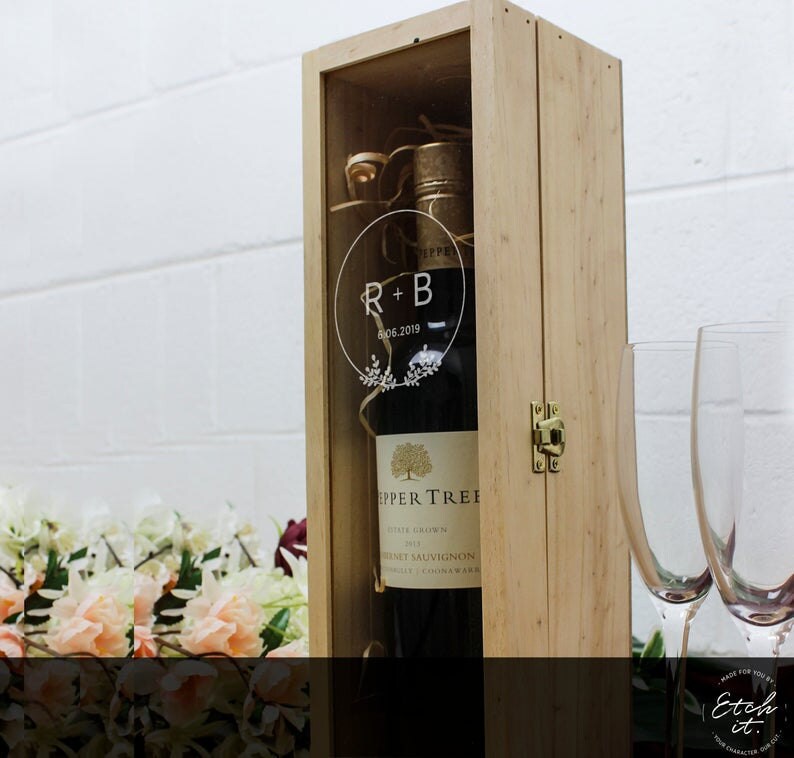 ARTICLE BY: Cat Goss
SHOP: The Parker Monogrammed Jackets here, Everland Flower Girl Confetti Buckets here and Etch It Studio Personalised Wine Box here